Collection: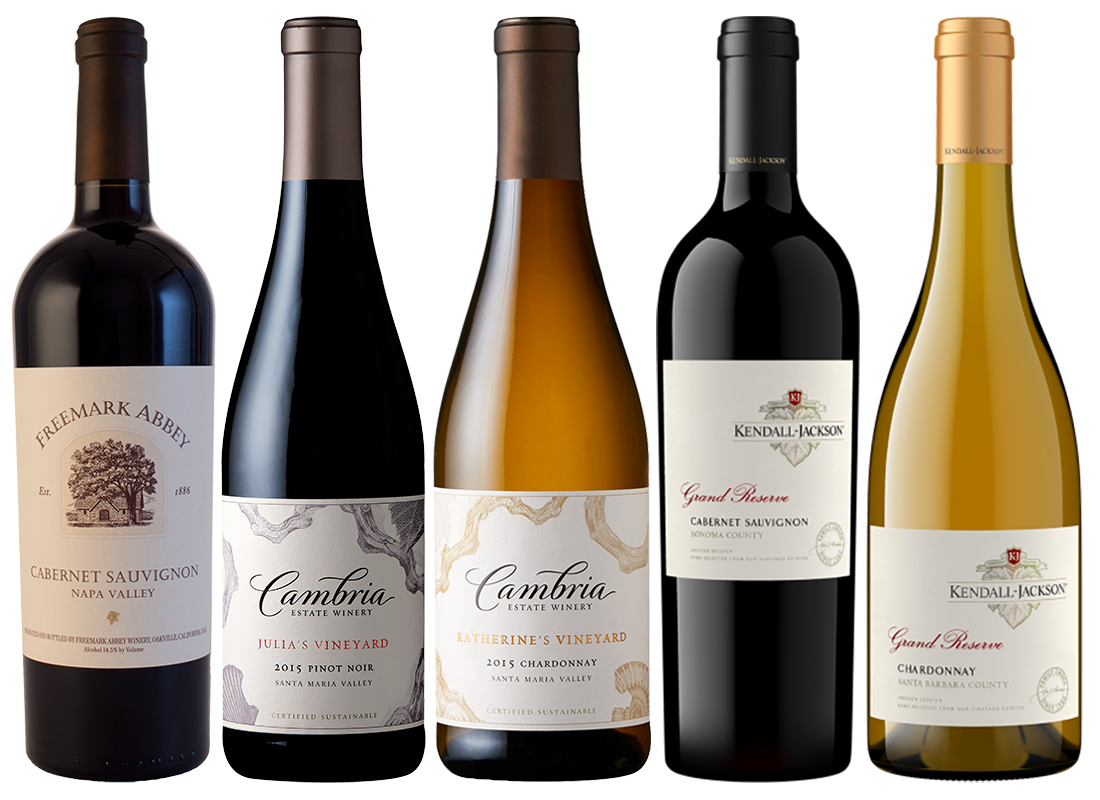 Collection:
Donated by Kendall-Jackson
Donated by Kendall-Jackson
Kendall-Jackson Selection
Freemark Abbey Napa Cabernet Sauvignon 2009 - California, USA
With a winemaking legacy going back to 1886, Freemark Abbey is a Napa Valley Original. The winery has been fortunate to have Ted Edwards as their winemaker since 1985 and his creative approach along with his years of experience with the vineyards of Napa Valley, make him of one of the top Cabernet Sauvignon winemakers in the region. This wine shows aromas of black currant, black cherry, and Santa Rosa plum intertwined with the spicy sweetness of oak, cedar, cinnamon, clove, and toast, awarded 92 Points Robert Parker Wine Advocate.
Cambria Julia's Pinot Noir 2010 - California, USA
"Cambria is a family-owned, sustainably farmed winegrower estate located in the heart of the Santa Maria bench in Santa Barbara County. Bolstered by several decades of diligent winemaking and vineyard experience, Cambria's wines faithfully express the unique character of one of the finest cool-climate crus in California. This Pinot Noir is born from an amalgam of different clones and vine ages, with older plantings and clones providing minerality and gravitas and the newer vines conferring dark fruit aromatics and a lush texture, awarded 91 Points Wine Enthusiast."
Cambria Katherine's Chardonnay 2018 - California, USA
"Cambria is a family-owned, winegrower estate located in the heart of the Santa Maria bench in Santa Barbara County. Bolstered by several decades of diligent winemaking and vineyard experience, Cambria's wines faithfully express the unique character of one of the finest cool-climate crus in California. This top Chardonnay expresses fresh fruit and floral aromas on the nose; followed by pink grapefruit, tangerine, citrus blossom, and apple flavours on the palate and a savoury note of wet stone married with subtle oak creaminess and a refreshing acidity on the finish." 
Kendall-Jackson Grand Reserve Cabernet Sauvignon 2015 - California, USA
"Founded in 1982, Kendall-Jackson is considered a benchmark of excellence and integrity in family-owned, California winemaking. Trusted by multiple generations of wine enthusiasts and novices alike for crafting consistent, high-quality wines from marine influenced, high elevation vineyard sites, that allow for growing grapes with a unique character. Grand Reserve Cabernet Sauvignon is a winemaker's blend of our mountain, ridge, hillside and benchland grapes grown along California's cool coastal appellations, it has distinct flavours of black berry, blueberry, plus both red and black currants with enticing fragrances of mocha and nutmeg." 
Kendall-Jackson Grand Reserve Chardonnay 2011 - California, USA
"Founded in 1982, Kendall-Jackson is considered a benchmark of excellence and integrity in family-owned, California winemaking. Trusted by multiple generations of wine enthusiasts and novices alike for crafting consistent, high-quality wines from marine influenced, high elevation vineyard sites, that allow for growing grapes with a unique character. Grand Reserve Chardonnay is a winemaker's blend of our mountain, ridge, hillside and benchland grapes grown along California's cool coastal appellations. On the palate you will find rich tropical fruit, grapefruit, lemon, vanilla and candied lime peel and an underlying mineral note."
Generously donated by Kendall-Jackson Wines