Collection: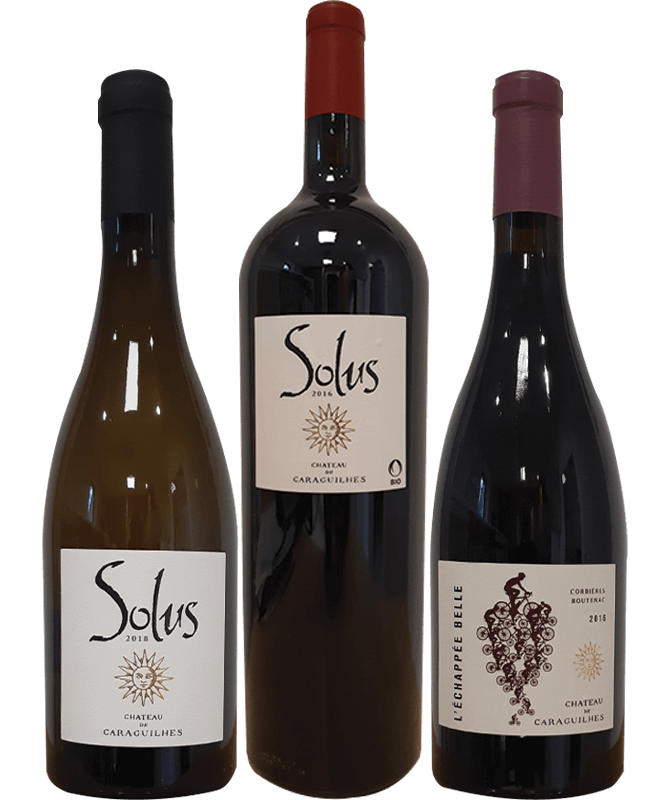 Collection:
Donated by Château de Caraguilhes
Donated by Château de Caraguilhes
Situated just 30 kilometers from the Mediterranean sea at altitudes of 100 to 180 meters, the vineyards at Caraguilhes are exposed to the north west wind which is a natural aide, keeping the vines healthy by limiting fungal diseases and reducing the population of harmful insects. The great diversity of the soils: clay, sandy clay, limestone and rolled pebbles, as well as that of the different views of the vineyard create ideal production conditions. Organic viticulture is the passion of Caraguilhes and their objective is to create exceptionally-crafted wines with a distinct style and richness, using traditional wine-making techniques. Caraguilhes are the largest grower of certified organically-grown grapes in the Corbières region. Ecocert certification – organically grown grapes with no pesticides or herbicides.

1x 1.5 Litre Château de Caraguilhes Solus Rouge 2016
Superbly balanced and very seductive, the Solus has all the freshness associated with Caraguilhes terroir; Bold fruit, velvety tannins and good concentration. The 2016 has similar characteristics to the 2015, with the Mourvèdre and the Carignan lending great finesse to this classy and elegant wine.
2x 75cl Château de Caraguilhes Solus Blanc 2018
Grenache Blanc has a unique character and an elegant complexity, with seductive aromas of lemon, apricot and grapefruit. 20 % Rousanne to give a rounded and vibrant palate, with a long mineral finish, a perfect expression of Caraguilhes terroir.
2x 75cl Château de Caraguilhes L'Echappée Belle 2016 
L'Echappée Belle embodies the union of Carignan, the grape variety that grows so easily on Caraguilhes terroir, and the organic method of production. The wine is full-bodied, taut and crisp, really has its own personality, impossible to find elsewhere. The softness of the 2016 is remarkable. 
Generously donated by Château de Caraguilhes